Antonym
反义词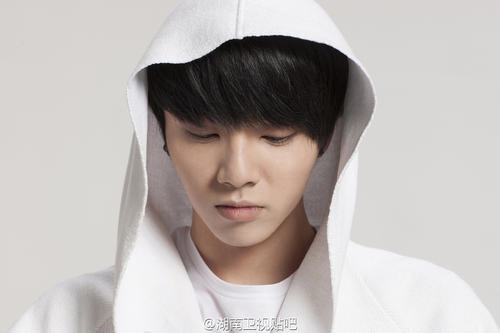 "Antonyms" composed by Wang Zi, lyrics by Xiao Han. The inspiration came from Composer's personal love experience. After a relationship ended, the morbid emotion became a catalyst. Wang Zi locked himself in the dark and wrote this heartache song. When he wrote the last sentence, he gradually felt relieved.
In the process of choosing songs one by one, Hua Chenyu heard the demo, liked it very much and made a reservation. Two months later, he decided to include it into the album.
The lyricist Xiaohan filled in two version of the lyrics from her own feeling of the demo, and finally decided to use "Antonyms". "Your antonym is me, and my synonym is wrong", "It's not that the word is poor, nor is it ignorant, it's just pain, and it's secretly rushing in the body", the pain of love lose was clearly shown on the paper.
Producer Bernard Zheng arranged the composition from quiet to dark, from simple to incremental, using a simple combination of piano as main instrument, with the string music gradually coming in afterwards. The bass of the piano in the prelude slowly fell down one by one, and the prelude of the whole song was gradually opened. The string music gradually entered. The arrangement seems to be simple, but is ingenuity, the piano, the vocal, the string are either in charge or as assistant, intertwined with each other, the lines are clear, leaving more space for voice performance to Hua Chenyu's voca
这首灵感来源于作曲者王子失恋的亲身经历,一段感情结束之后病态的情绪成为催化剂,王子把自己关在黑暗中写出了这首走心情歌。写到最后一句时,他内心渐渐释然。在一批一批的收歌过程中,华晨宇听到该Demo很有感觉,做了预留,两个月后,在最后定歌曲的时候,决定把它收录进来。填词人小寒有感而发,为该Demo填写两版词,最后确定了《反义词》。"你的反义词是我,而我的同义词是错","并非词穷,也非懵懂,只是疼痛,在体内暗涌",失恋痛感跃然纸上。
制作人郑楠编曲采用由宁静到暗涌,由简单到递加的手法。以钢琴为主,弦乐后进的简单配合。前奏中钢琴的低音一个一个的慢慢砸下来,拉开了整首歌的序幕,逐渐弦乐进入,编曲看似简单,但十足巧思,钢琴,人声,弦乐三部有主有辅,互相跌宕交织,线条清晰,把更多的声音表现空间留给了华晨宇的人声。 同时,对于这部镜头语言应用相当出色的作品,华晨宇的表现和MV内涵深度,都超越一般的音乐视频。
---
《Antonym》Official MV 20160927
Lyrics:
《Antonym》 反义词 Composer: Wang Zi Lyricist: Xiao Han Arranger: Bernard Zheng It was not loss of words Nor bewilderment But the pain ebbing and flowing inside of me My heart was pierced Though only by a pinhole It was enough to freeze my throat My eyes were getting red With a timid yet yearning gaze From your eyes I forgot my grave wound Two minutes after breaking up I indulged you As a kind of forgiveness towards you The antonym of you is me The antonym of leaving is silence If love has to be fought for Then you never held on I pleaded carefully for you to stay There was no room for blunder Yet I'm synonymous with mistake Letting go is synonymous with torment If love is life Then I've only been hiding from it (Interlude) My eyes were getting red With a timid yet yearning gaze From your eyes I forgot my grave wound Two minutes after breaking up I indulged you As a kind forgiveness towards you The antonym of you is me The antonym of leaving is silence If love has to be fought for Then you never held on I pleaded carefully for you to stay There was no room for blunder Yet I'm synonymous with mistake Letting go is synonymous with torment If love is life Then I've only been hiding from it By saying the opposite of what's on my mind I don't have a ground to stand on anymore Translated by Hua Chenyu English Subs