Escape From Utopia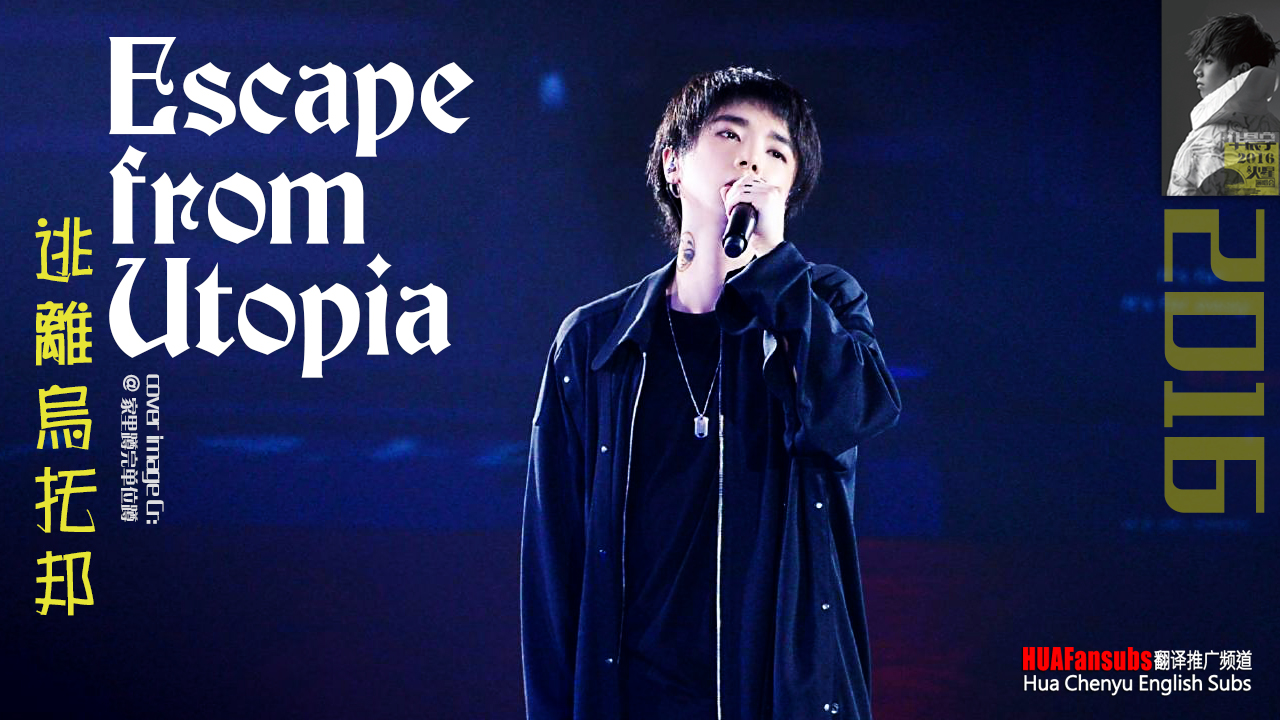 "Escape from Utopia", composed by Aurora Aksnes, the lyrics by Dai Yuedong. This Norwegian Light's rising star has made her mark in the music scene with its illusory and deep, clear and emotional vocal lines, and her songs have been greatly appreciated by Katy Perry.
Although this song was written by a girl, its jumping, psychedelic style was very interesting, and matched Hua Chenyu's style very well.
It was well known that Aurora Aksne normally put her songs into her own albums, not for others to cover, the team decided to give it try. After communicating on copyright, the team got this talented girl's song, then this "Escape from Utopia" was born.
"Utopia" represents the beautiful world in the will of human mind, but the seemingly beautiful reality has a lot of constraints, the seemingly gorgeous has many holes, people want to escape. Just as the life of an idol, behind the spotlight is the life that has been edited.
After collaboration of seven songs, including the song "We Are All Lonely" of the first album and "The Mayfly" of the second album, the collaboration of Dai Yuedong and Hua Chenyu has become very tacit. Obviously, this time Dai Yuedong had a good grasp of the theme, named the song "Escape from utopia", the lyrics wrote about the false hollow feeling of the urban people being pushed away by the secular rules, as if the life is written by the invisible pen, expressing the desire to break free from the secular frame, re-control of their own life. And this theme is very much in tune with Aurora Aksne's psychedelic style.
The arranger Bernard Zheng, highlighted the intensity of the rhythm and the distinction of the tone, to build a different world from the reality, both beautiful pure, but also deep dark. The electronic music interspersed in the middle is extremely depressed, wanting to break through everything by the real roar of life, and to a large extent to let the emotions soothing. The whole song's psychedelic tone and changing drum point collision, in which the rebellious, struggling, and self-talk, let the "book man" finally make the decision, by himself, to go out, escape from utopia, restore the appearance of life.
2015年的春节假期刚过,专辑制作团队就紧锣密鼓地进入了全新筹备工作,首先第一阶段的重要工作自然是收歌。当听到了挪威18岁的精灵少女Aurora Aksne的歌曲。这位挪威之光的后起之秀以其虚幻而深邃的曲风、清澈且富感情的声线在乐坛崭露头角,她的歌曲更是被凯蒂·派瑞大加赞赏。虽然是女生所谱写的歌,但其跳跃、迷幻的曲风非常有趣,与华晨宇的风格颇为相配,因为知道Aurora Aksne不少歌曲打算放到自己的作品辑,并不出手。但团队决定还是试着争取,经过版权的沟通,获得这位天才少女的该曲,才有了这首《逃离乌托邦》。
"乌托邦"代表着人类思想意志中美好的世界,然而看似美好实则诸多束缚,看似华丽实则透着空洞,让人想逃离。正如明星的生活,光鲜亮丽背后是被剪辑过的生活,聚光灯下是被编辑过的人生。
经历了首张专辑《我们都是孤独的》以及第二张专辑《蜉蝣》等七首歌的合作,填词人代岳东与华晨宇的配合已经非常默契。显然,这次代岳东很好的把握了主题,取名《逃离乌托邦》,写出了都市人被这个社会的世俗规则推着走,仿佛人生被无形之笔书写的虚妄空洞之感,表达了想要挣脱世俗的条条框框,重新把控自己人生的渴望。而这主题与Aurora Aksne迷幻飘渺的曲风非常相称。
另一位老搭档,编曲制作人郑楠,则突出了节奏的强烈和音色的鲜明,构建出一个异于现实的世界,既美好纯净,又深沉黑暗。中间穿插的电子乐正是极为压抑、想要冲破一切的情境下,来自生活中的真实嘶吼,很大程度上让情绪得到抚慰。整首歌的迷幻音色和变化鼓点碰撞,其中的叛逆、挣扎、和自说自话,让"书中人"终于做出决定,亲自地,走出去,逃离乌托邦,还原生活的模样。
---
《Escape From Utopia》Mars Concert 2016 Shenzen
华晨宇 逃离乌托邦
《Escape From Utopia》Mars Concert Beijing 20171014
华晨宇 逃离乌托邦
Lyrics:
《Escape From Utopia》 逃离乌托邦 Composers: Aurora Aksnes, Martin Odd Skalnes, Magnus Skylstad Lyricist: Dai Yuedong Arranger: Bernard Zheng I seem to have fallen into a story Everything around me is like fiction Everyone is playing a role Even the bystanders are acting with me I'm just like a character in a book But I have my own emotions HEY~ HEY~ Manipulated by an invisible pen My life feels unreal HEY~ HEY~ The world I live in How illusory How boring And how absurd it is I want to fly out of this chapter And redevelop the plot To rewrite A whole new me I despise this hollow and extravagant dream Despite how beautiful the cover or binding may seem I don't want to be trapped in hundreds of pages Even if it becomes a best-selling series I'm just like a character in a book But I have my own emotions HEY~ HEY~ Manipulated by an invisible pen My life feels unreal HEY~ HEY~ The world I live in How illusory How boring And how absurd it is I want to fly out of this chapter And redevelop the plot To rewrite A whole new me Even if the plot twists and turns I have long grown weary Don't understate it intentionally Why not leave a little suspense for tomorrow The world I live in How illusory How boring And how absurd it is I want to fly out of this chapter And redevelop the plot To rewrite A whole new me Translated by Hua Chenyu English Subs